A Better Global Environment for the Next Generation
With a new era of AI and IoT technology upon us, we are pleased to announce the establishment of the newly formed Tokyo Business Facility Technical Center with the aim of further strengthening our technical capabilities and improving the quality and speed of our customer service.

We will declare our second founding on our upcoming 90th Anniversary in 2018. At this time will also begin further advancement and business reform company-wide through the followings.

We will enhance the proposal of the high technology, speed, flexibility, and attractiveness so that customers choose our company for new product development and spread.
We will increase flexibility and gradually change our industrial structure by making day-to-day adjustment to existing tasks to widely contact customers in new fields.
We will become a service provider delighting all the customers by further improving the quality of the oil-based, UV, energy saving UV, LED-UV, and EB ink services and strengthening the delivery responses.
Please look forward to the new upcoming Megami Ink Mfg. Co., Ltd.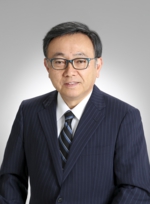 Tadao Arai
Representative Director
Megami Ink Manufacturing Co., Ltd